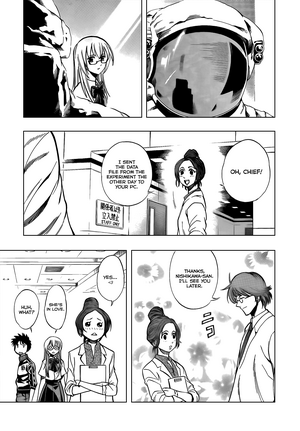 Mako Nishikawa is a researcher who works for Yoshina Asuka at the NASL who has a fairly significant infatuation with him. She dresses in a white lab coat and her hair is held up in a bun on top of her head.

The first time we see her, she is giving a report to Asuka, and she gives him a folder with a note inside that says "I love you" on a piece of paper decorated with dolphins, rabbits, and hearts, and it has two tickets to a show paperclipped to it. However, Asuka is not at all surprised by her note, merely thanking her for the report, and not even acknowledging her confession, implying that she may have done something like this at least once in the past.
Later, when Amamiya and Ageha are following Iba Kouichi, she reads the information about him given by Mako, and then says that she also asked Ageha to "give a good reference for his future mommy".