Introduction
PSYЯEN follows the adventures of Ageha Yoshina, a high school student who is chosen by Nemesis Q as a participant in the Psyren games. The games take place in a world known initially as Psyren, which is revealed to be the real world a decade in the future. Ageha and his friends attempt to alter the future and save the world from becoming Psyren.
Featured Article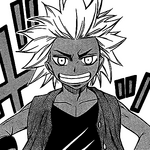 Kyle Tenjuin is a mischievous, but powerful boy. He is quite handsome though he has a scar on his face caused by Miroku. He has a good build. He and Ageha have established a brotherly relationship and he is quite clingy as he wants Ageha to stay around to play in the present. His ability, called "Material High" is Blast-based. It lets him create nearly-invisible solid material by super-compressing the air.Read more...
Community content is available under
CC-BY-SA
unless otherwise noted.